(Was that title obnoxious enough? I think not.)
I just got these new shoes and I'm so excited I could pee! Alright, that's gross. I'm just very excited.
One thing significant about me is that I have foot trouble. At 26, I can't stand up for more than a couple of hours, and depending on the day, it's difficult for me to walk very far (on vacation, at museums, toolin' around town, things like that). In college I once got a job as a seasonal cashier at Best Buy, and I showed up for one four-hour training session before I realized there was just no way I could do it. Standing in one spot caused killer pain on my feet and ankles, to the point where it was just not possible. I lasted that four hours and that was it. I had no interest in electronics superstores, anyway, so it wasn't all bad.
A while later, in college still, I got a job at a plus-size clothing store. I had one shift, I think it was eight hours but it might've been less, and at the end of the night I thought I had done serious permanent damage to my poor, poor feet. All I could do was wonder how "normal people" can make a living every day standing up at their jobs. It didn't make sense to me. I wore smart shoes. I wasn't the only overweight person working there. Yet they were able to function while I was in searing pain. I looked desperately forward to my bathroom break because it gave me a moment off of my feet. I liked working there. I loved helping women with alternative-to-a-supermodel figures find clothing that made them feel beautiful and confident, and I liked selling it to them, and I even found satisfaction in folding jeans and sweaters "just so." Clothes are fun and I like being around mass quantities of them. Looking good is fun, and working with other women and talking to other women is fun, too. I don't care what anybody says. Working on the sales end of clothing retail is not quite, but almost, as fun as straight up shopping. But I literally couldn't stand it. That job didn't last more than one day either, even with the good discount.
And so I stuck with sedentary, but thoughtful, office jobs. Part of the reason why I think my feet are so crappy is that I weigh more than I ought to. Genetics is another part. My mom has had foot problems forever and unfortunately, I'm following in her footsteps (sorry). She has a condition called Charcot Marie Tooth disease. It's a neurological disorder, hereditary. Her 5 brothers and sisters don't seem to have it and neither do their kids. Her mom didn't have it, but her wheelchair-bound grandmother did, we suspect. I'm pretty sure I have it, in a mild form, but my two sisters don't. The effects of the disease on my mom are difficult to explain. In a nutshell, the disorder is keeping her extremeties (fingers, toes, hands and feet) from receiving the full messages that nerves send to and from the brain, so her muscles are slowly breaking down and losing their functionality. She has trouble feeling detailed sensations with her toes and fingers, her hands aren't dexterous and she can't button small buttons or grip to open jars or bottles, her feet have slight deformities and cause pain when she walks, and there are some other symptoms, but it mostly just means walking is hard for her and performing small functions with her hands isn't possible anymore. Thankfully, it's not a disease that causes major problems with living a normal life, and she won't die from it or anything. But it makes things like walking from a parking lot to a building a lot harder than they should be. She can't shop at the mall (or big grocery stores, really), browse museums or galleries, go to sporting events, walk on the beach, or do anything that requires walking from one place to another unless it's a very short distance. On vacations sometimes she's taken a wheelchair, which seems weird, because my mom's not old and she's not crippled. But she can't walk far, and having a wheelchair around on occasion gives her some freedom.
Needless to say, she wears special shoes. Ordinarily, she chooses sandals because the ones she likes come in extra extra extra wide widths to accomodate the shape of her feet, and they also come with lots of cushion. She makes most of her shoe purchases from footsmart.com. I've taken to ordering from there too, but I find it difficult most of the time because they're just so expensive. $70 plus shipping for shoes feels crazy to me. I wish I could live my life strutting around in cheap, sexy heels and cute flats from Target and Payless, but that's not meant to be. So footsmart it is, because I trust them to feature shoes that are genuinely comfortable. My first pair of footsmart shoes was purchased almost out of desperation. I was finding it difficult to get from the parking garage to my office building. I needed shoes to wear to work. I expressed this to my mother, and I picked out a pair that she bought me for Christmas. They were so much cuter than I thought shoes from footsmart could be, and wearing them felt like freedom, flying, puppy dogs, rainbows, all good things, finally. They were size 9 WW, but they didn't look like grandma shoes. Naturalizer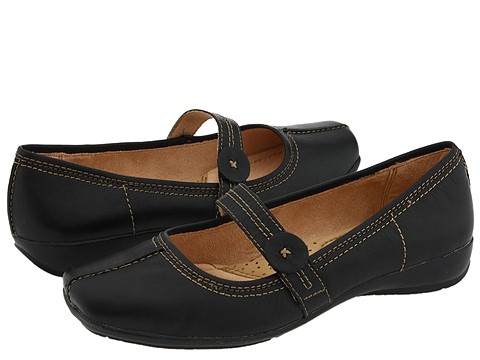 Referee in black leather. I wore them out by wearing them every day for 6 months. I loved those shoes.
I bought another pair in camel brown. I can't wear the black ones anymore, because they're just too worn out. I bought a pair of black Hush Puppies instead, and although they fit alright, I hate them in comparison. They don't feel like walking on air like my Naturalizers did. I want to buy another pair of Referees in black, but I just can't pay full price. I can't make myself do it, I don't have money to do it, I don't want to do it. Maybe one of these days.
I find myself drawn to footsmart.com on a regular basis. Maybe weekly I'm at the site, skimming reviews, looking for comfortable shoes that look semi professional and not unreasonable for a 26-year-old, not fashionless, person to be wearing. It's usually my aching feet that inspire me to browse the site. It happens all the time. I want to look polished so badly. I wish my clothes fit better, looked more current, expressed my personality, made me look anything but hugely fat. I want to be comfortable, I want to be beautiful. Thoughts like this sometimes consume me during my waking hours, and I wishfully fill endless virtual shopping carts with items I never go through with actually purchasing.
And so, one day last week, I was thinking about how much I loved my Naturalizer Referees. (I don't work for them, I swear. I'm just a huge fan.) And I was surfing Amazon, trying to find $25 worth of stuff to buy so that the one thing I actually planned on buying (StrengthsFinder 2.0, the book, a for-no-reason gift for my boyfriend) would be shipped for free. I added cookbooks, coupon organizers, and a plastic bag holder to mount to the wall. And then I added two pairs of Naturalizer shoes, which I found for what was, to me, a very reasonable price. I removed the cookbooks and coupon organizers, kept the bag holder (our kitchen is a mess), and took a deep breath and ordered the shoes. That afternoon I guiltfully confessed to Drake, "I spent a hundred dollars." He made me feel better about myself, as usual.
A few days later the box came with my bag holder and my book. No shoes yet. The anticipation grew. And today… there they were! Big old box on the porch. I am in love, and it is with two pairs of shoes.
First, I bought these, because I don't have any black sandals. I think they're cute enough.
I've been wearing them all day and they're perfect. They're just so squishy. I like the thin straps. I like the loop in the front. I just like how they feel.
Second, I bought these, because I fell in love with them at the actual Naturalizer store at the mall once long
 ago, have been thinking about them since, and was shocked to find that Amazon had them in my size and on super sale. Can I not wear these with everything? Jeans, brown pants, black pants, white pants, grey pants, capris, skirts, I don't care. Everything I wear has blue in it anyway. Skimmers and ballerina flats have the tendency to feel like you're just wearing paper-thin soles, and you can feel every pebble beneath you. With these shoes, that is not the case. They feel sturdy, solid, but super feminine. They're just good quality. It's amazing how happy this is making me.
Now I should hurry up and find an outfit to wear with one of my new pairs of shoes so that when Drake gets home, I look put-together. Whether or not my looking put-together is possible remains to be seen, but I am inspired to try!